Unser Vorstand
Stefan Feltens
Stefan Feltens verfügt über langjährige Erfahrung in der internationalen Pharmabranche, von Hoechst AG, über Positionen bei Teva/Ratiopharm. Zuletzt war er Chief Financial Officer von Teva Global Operations, einer Sparte des weltweit führenden Generikaherstellers Teva Pharmaceuticals Industries Ltd. Seit 01.01.2019 ist er Chief Executive Officer von SHOP APOTHEKE EUROPE N.V. In seiner Funktion als Vizepräsident liegt sein Hauptaugenmerk auf der nationalen und europäischen Interessenvertretung der EAEP-Mitglieder und der Sicherstellung fairer Rahmenbedingungen für Online-Apotheken.
Stefan Feltens has many years of experience in the international pharmaceutical industry, from Hoechst AG to positions at Teva/Ratiopharm. Most recently, he was Chief Financial Officer of Teva Global Operations, a division of the world's leading generics manufacturer Teva Pharmaceuticals Industries Ltd. Since January 1, 2019, he has been Chief Executive Officer of SHOP APOTHEKE EUROPE N.V. In his function as Vice President, his main focus is on representing the national and European interests of EAEP members and ensuring fair conditions for e-pharmacies in Europe.
Stefan Feltens possède de nombreuses années d'expérience dans l'industrie pharmaceutique industrielle, de Hoechst AG à des postes chez Teva/Ratiopharm. Plus récemment, il a été Directeur financier de Teva Global Operations, une branche du plus grand fabricant mondial de génériques Teva Pharmaceuticals Industries Ltd. Depuis le 1er janvier 2019, il est Président-Directeur Général de SHOP APOTHEKE EUROPE N.V. Dans le cadre de sa fonction de Vice-Président, sa principale mission consiste à représenter les intérêts nationaux et européens des membres de l'EAEP et de garantir des conditions équitables pour les e-pharmacies en Europe.
Walter Hess
Von 2015 bis Dezember 2020 Head Switzerland der Zur Rose-Gruppe. Seit Dezember 2020 Head Germany. Vor seiner Tätigkeit für die Gruppe als externer Berater tätig, u.a. für diverse Projekte von Zur Rose, zuletzt als Standortleiter der Zur Rose Pharma GmbH, Halle (Saale). Bis 2013 Geschäftsführer der Praevmedic AG, Zürich. Zuvor in verschiedenen leitenden Funktionen in internationalen Industrieunternehmen. Kaufmännische Ausbildung und Studium der Betriebswirtschaft an der Fachhochschule St. Gallen.
Head Switzerland of the Zur Rose Group from 2015 until December 2020. Head Germany since December 2020. Before joining the Group, he worked as an external consultant, also on various projects for Zur Rose, and ultimately heading the Zur Rose Pharma GmbH facility in Halle (Saale). CEO of Praevmedic AG, Zurich, until 2013. Previously held a number of management positions in international industrial companies. After a business education, he studied business administration at FHS St. Gallen University of Applied Sciences.
Directeur du groupe Zur Rose en Suisse de 2015 à décembre 2020. Directeur en Allemagne depuis décembre 2020. Avant de rejoindre le groupe, il a travaillé comme consultant externe, également sur différents projets pour Zur Rose, et enfin directeur du site de Zur Rose Pharma GmbH à Halle (Saale). PDG de Praevmedic AG, Zurich, jusqu'en 2013. A occupé auparavant un certain nombre de postes au sein d'entreprises industrielles internationales. Après une formation commerciale, il a étudié la gestion d'entreprise à l'Université des Sciences Appliquées FHS de Saint-Gall.
Gianni De Gaspari
Gianni De Gaspari ist einer der Gründer von Viata, einer in Belgien ansässigen Online-Apotheke, bei der Kundenservice und pharmazeutische Beratung im Mittelpunkt stehen. Viata startete 2014 und ist in Belgien, Frankreich, den Niederlanden, Deutschland, Spanien und seit 2020 auch in Italien aktiv. Gianni De Gaspari konzentriert sich auf die Strategie von Viata und ist aktiv an ihrer Weiterentwicklung in Europa beteiligt. Als Vorstandsmitglied unterstützt er die Ziele der EAEP und setzt sich für einen besseren Zugang zu Gesundheit ein.
Gianni De Gaspari is one of the founders of Viata, a Belgium-based online pharmacy that has customer service and pharmaceutical advice in its DNA. Viata started in 2014 and is active in Belgium, France, the Netherlands, Germany, Spain and Italy. Gianni De Gaspari focusses on Viata's strategy and is active in further developing the company in Europe. As a board member he supports the EAEP's goals and strives for a better access to health.
Gianni De Gaspari est l'un des fondateurs de Viata, une pharmacie en ligne basée en Belgique qui a le service-client et les conseils pharmaceutiques ancrés dans son ADN. Viata a été créée en 2014 et est active en Belgique, en France, aux Pays-Bas, en Allemagne, en Espagne et en Italie. Gianni De Gaspari se concentre sur la stratégie de Viata et s'attèle à poursuivre le développement de l'entreprise en Europe. En tant que membre du conseil, il soutient les objectifs de l'EAEP et œuvre pour améliorer l'accès à la santé.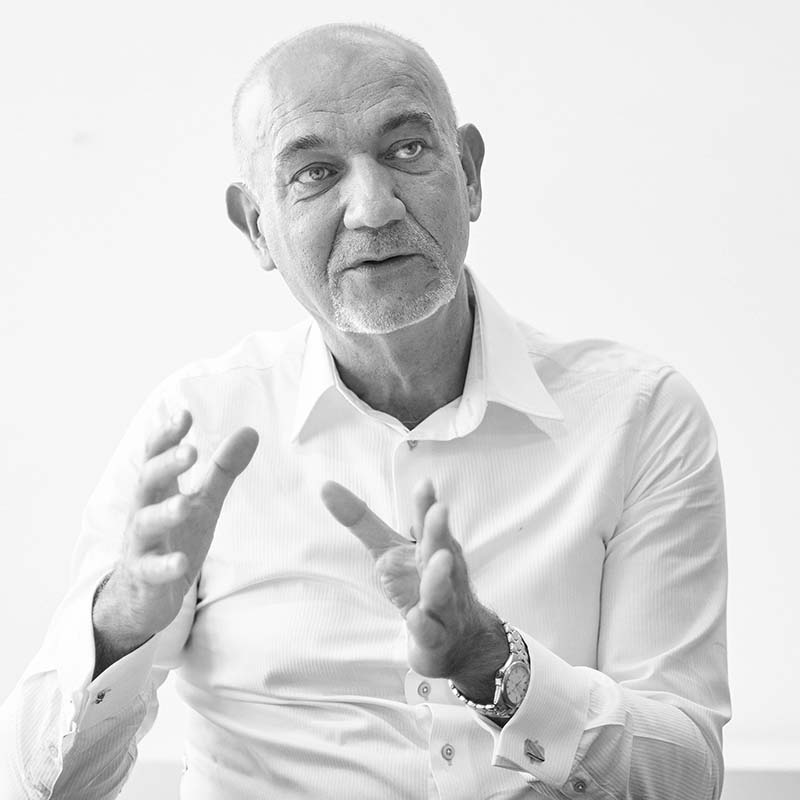 Vladimir Finsterle
Nach dem Studium arbeitete Vladimir Finsterle in der klinischen Pharmazie bei IKEM Prag. Danach war er 10 Jahre lang bei der pharmazeutischen Firma Johnson and Johnson in verschiedenen Marketing- und Verkaufspositionen tätig. Er sammelte auch Erfahrungen im Ausland und erwarb 1993-1997 einen MBA, nachdem er am Programm der Katz-Universität in Pittsburgh studiert hatte. Seit 1999 ist er in seinem eigenen Unternehmen im Gesundheitswesen tätig, gründete und betreibt einen Apotheken-E-Shop in der Tschechischen Republik und der Slowakei. Im Jahr 2016 gehörte er zu den Gründern des tschechischen Verbands der Online-Apothekenbetreiber in Prag. Er ist Mitglied von MENSA und seit 2019 zertifizierter Berater im Bereich der Arzneimittelberatung der Tschechischen Apothekerkammer. Er lehrt an der Fakultät für Biomedizin der Tschechischen Technischen Universität. Seit ihrer Gründung hat er Pears Health Cyber aktiv gemanagt und sich um ihre strategische Entwicklung gekümmert.
After graduating, Vladimir Finsterle worked initially in clinical pharmacy at IKEM Prague, then worked for ten years at the pharmaceutical company Johnson and Johnson in various marketing and sales positions. He also gained experience abroad and in 1997 obtained an MBA after studying at Katz University program in Pittsburgh. Since 1999, he has been involved in his own business in healthcare, founded and operates a pharmacy e-shop in the Czech Republic as well as in Slovakia. In 2016, he was one of the founders of the Czech Association of Online Pharmacy Operators in Prague. He is a member of MENSA and since 2019 a certified consultant in the field of drug counseling of the Czech Chamber of Pharmacists as well as a lecturer at the Faculty of Biomedicine of Czech Technical University. Since its inception of Pears Health Cyber, he has been actively managing the company and its strategic development.
Après avoir obtenu son diplôme, Vladimir Finsterle a d'abord travaillé dans une pharmacie clinique à l'IKEM Prague, puis a travaillé dix ans au sein de l'entreprise pharmaceutique Johnson and Johnson à différents postes marketing et commerciaux. Il a également acquis de l'expérience à l'étranger et a obtenu un MBA en 1997 après avoir suivi le programme d'études de l'Université de Katz à Pittsburgh. Depuis 1999, il gère sa propre activité dans le domaine de la santé, a créé et exploite une boutique de pharmacie en ligne en République Tchèque ainsi qu'en Slovaquie. En 2016, il fut l'un des fondateurs de l'association tchèque des opérateurs de pharmacie en ligne à Prague. Il est membre du MENSA et, depuis 2019, il est devenu consultant certifié dans le domaine des conseils sur les traitements médicaux de l'Ordre des pharmaciens tchèques ainsi que conférencier à la Faculté de Biomédecine de l'Université technique tchèque. Depuis la création de Pears Health Cyber, il gère activement l'entreprise ainsi que son développement stratégique.